In addition to providing rehearsing places, Steep Slope Studio seeks to make better creating environment through hosting events with viewpoints only in Yokohama.
1. Charm of the Building
Steep Slope Studio once was a wedding ceremony hall. The place to cerebrate special moments in life has become an art creating space.
We have not made a big change on the structure of the building. We collaborated with a university nearby the studio and made the comfortable space with help of students.
Y-GSA
Steep Slope Studio × Y-GSA renovation project
Date: Jun.–Sep. 2007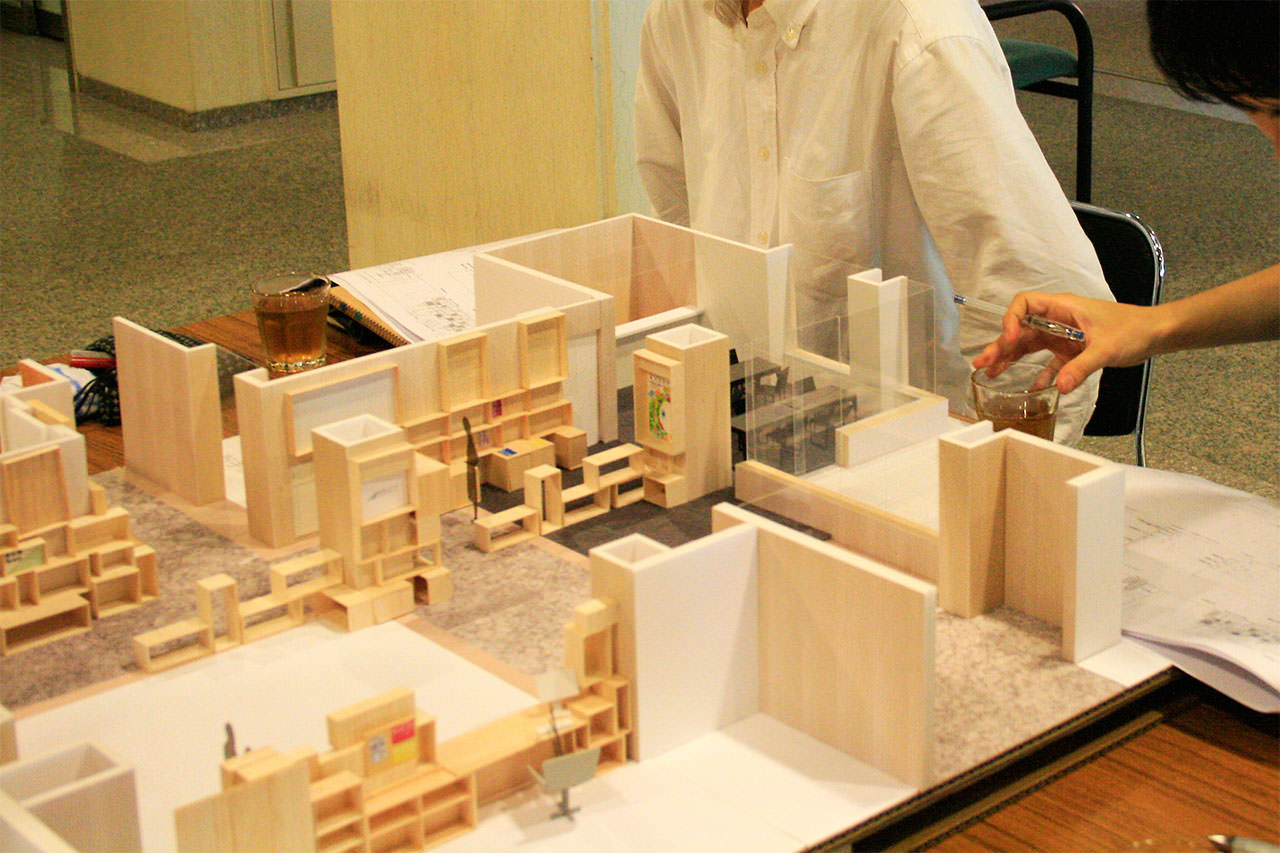 Steep Slope Studio held a competition to renovate common spaces such as the entrance and Lounge space for students of Yokohama Graduate School of Architecture(Y-GSA), which was newly established with a studio in Bashamichi. The concept of the project was "Rehearsing place as a creating space" and focused on three points below.
A platform to share the process of creation
A space to trigger discussion and interaction between visitors and artists
A space to stimulate imagination of artists and to let artists concentrate on their work
Among seven teams, the plan below won the competition.
Title: "Long Shelf of Steep Slope Studio"
Concept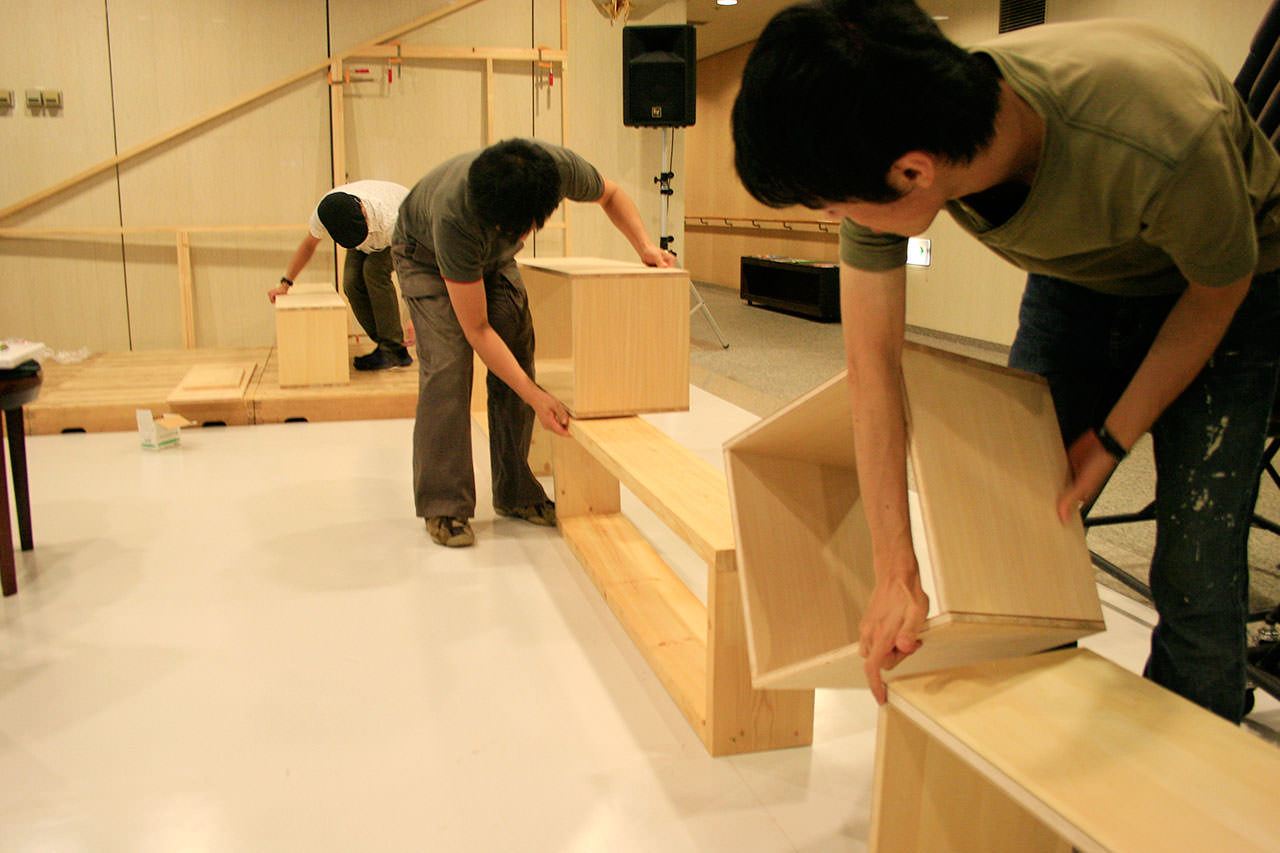 The key idea of the plan is to divide the big common space into four different spaces with a clear role by crossing big shelves. Shelves are sometimes used as a desk, a counter, a bench, or a display. As people in Steep Slope Studio fulfill empty space of the shelves, Steep Sleep Studio develops as a creating space.
The plan focuses on the function of the studio to gather people and to accumulate information as creating space for performing arts. The renovation was completed by voluntary work of students in September.
There is also a work inspired by the history of Steep Slope Studio as a former marriage ceremony hall. A Korean artist Hyun-Suk Seo provided audience with new experiences by using the building and the areas nearby.
Tsurenakumo Aki no Kaze
Date: Oct. 19-Oct. 27, 2013
Direction: Hyun-Suk Seo
Cast: Actors chosen by audition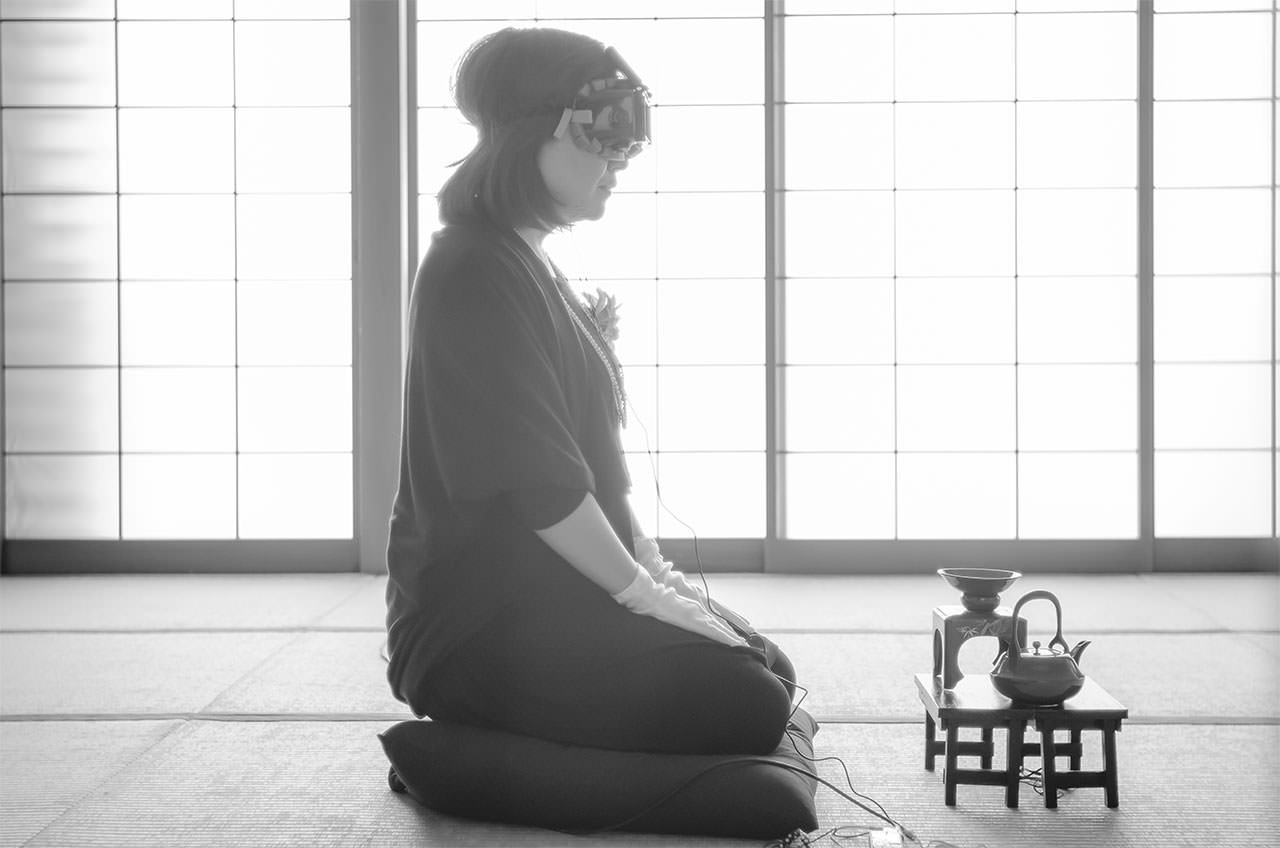 The piece consists of a 60-minute tour that pairs participants with a single actor or actress dressed in formal wedding ceremony attire. This is a story of marriage, a contract, and memory. Go forward with the trust to the actor or the actress beside you.
Director's Note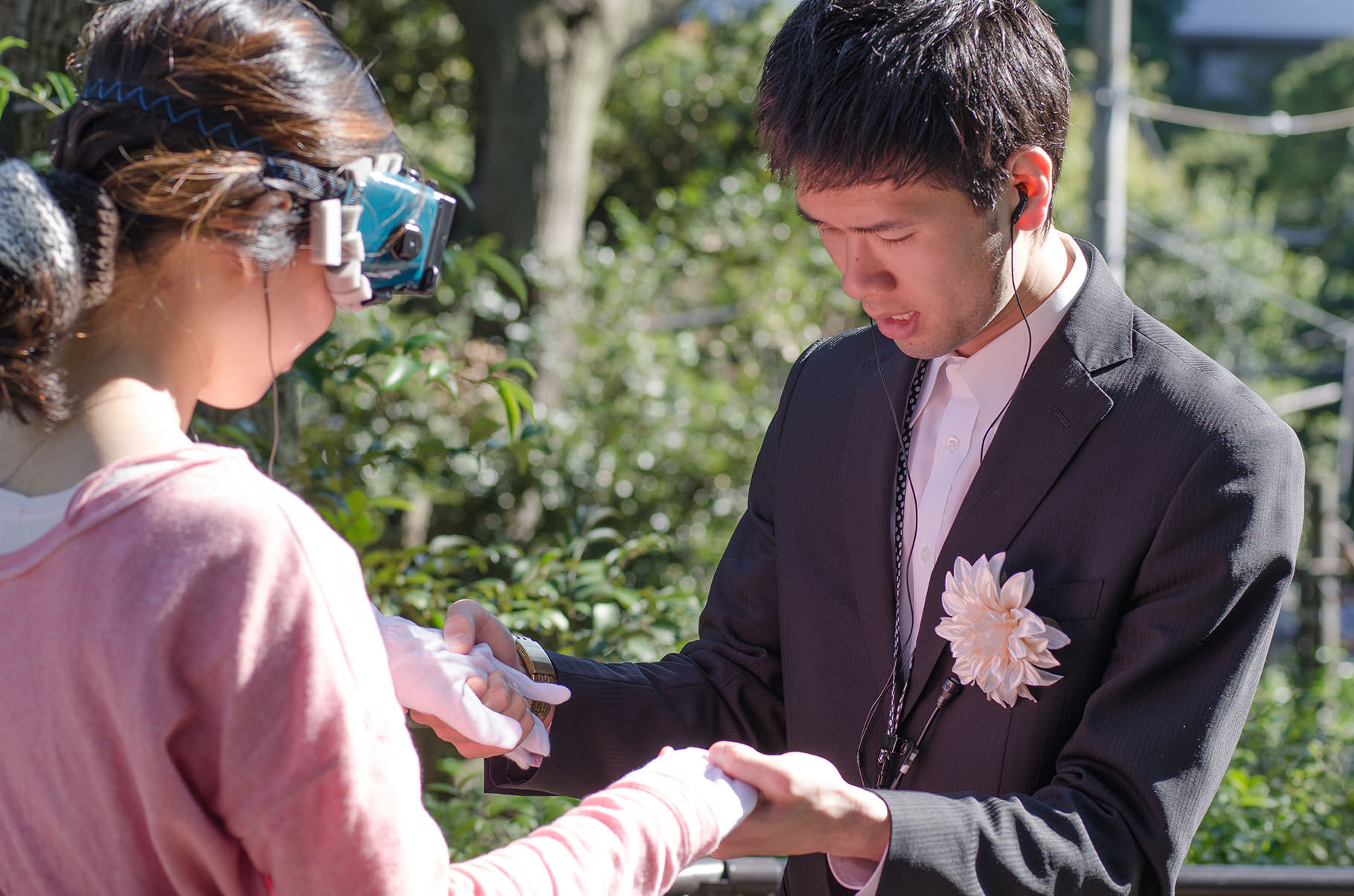 Steep Slope Studio was once a wedding ceremony hall and uncountable numbers of couples got married here.
Place controls time and regulates actions.
Wedding ceremony halls are places the functions of which stand out the most.
It is quite an interesting fact that such place is now used as a rehearsing place.
"The unconsciousness of the building" might have appeared, maybe.
Matsu, a photographer who has taken wedding photos for fifty years, says "Wedding is a misunderstanding."
If place has memories, the ceremony to revive them must be as dramatic as a wedding ceremony and an illusion like a drama. It is a body that gives life to memories. And a body is updated by a contract.
Ishi, who held a wedding ceremony here in 1990, says "Marriage is to walk together closely."
2. Charm of Yokohama
As Steep Slope Studio is not a performing place and but a rehearsing place, we challenge to seek "where" to choose as a performing place. Yokohama is full of attractive performing spaces as dramatic as theatres. We would like to introduce four charming programs staged in places except theatres.
La Marea Yokohama
Artist: Mariano Pensotti (Playwright, Director)
Date: Oct. 3-Oct. 5, 2008
Venue: Yoshida-machi, Naka-ku, Yokohama (in shops and on the street)
Nine episodes will be told in store and on the street simultaneously. During the 2 hours of performance time, there will be some time for a set change, but please feel free to stay.
The performance will be presented in stores on the street of Yoshida-machi, not in an ordinary theatre. For the stage effect, there will be no seating reception, ticketing, or announcement for performance.
La Marea was premiered in 2005 by Mariano Pensotti from Argentina and arranged for each performing city.
Director's Note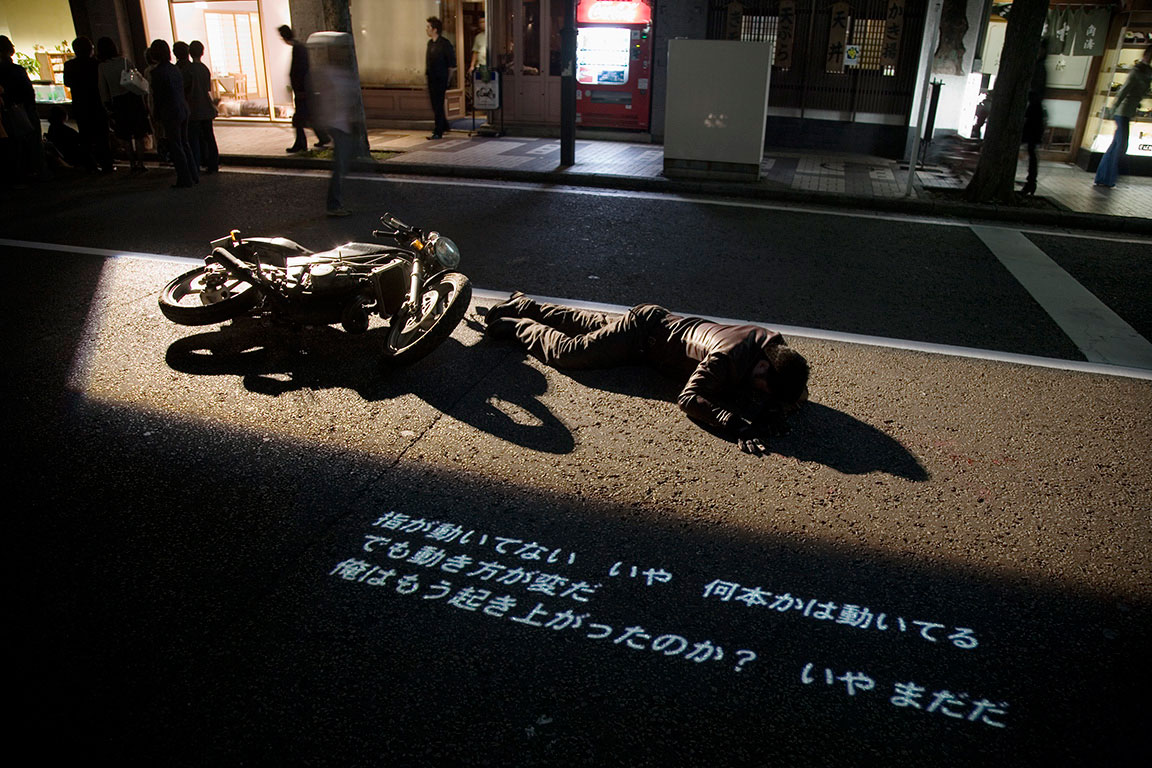 A street, at night. In this street there are nine performance spaces. In each space there is a group of actors, "installed", exhibited, in different situations. Sometimes they appear to be the people of the place, other times they are clearly fictional. Without being aware of being watched, these characters go through their routines, do things. Little things. The scenes do not contain dialogue – or when they do, it is very short. However, through a system of subtitles installed in each space, the spectators have access to the thoughts of these characters in some cases, and in others to an account of their personal history, their past, their present circumstances, even their future, or the moment just before the one we see represented. Many thoughts, many histories. The scenes are presented simultaneously on both sides of the street, and the spectators can move from one to another, following the flow of the stories and thoughts to which they have access.
Rimini Protokoll "Cargo Tokyo-Yokohama"
Date: Nov. 25-Dec. 21, 2009
Total: 23 performances (one performance per day / capacity: 45 seats)
Concept: Stefan Kaegi
Direction: Jörg Karrenbauer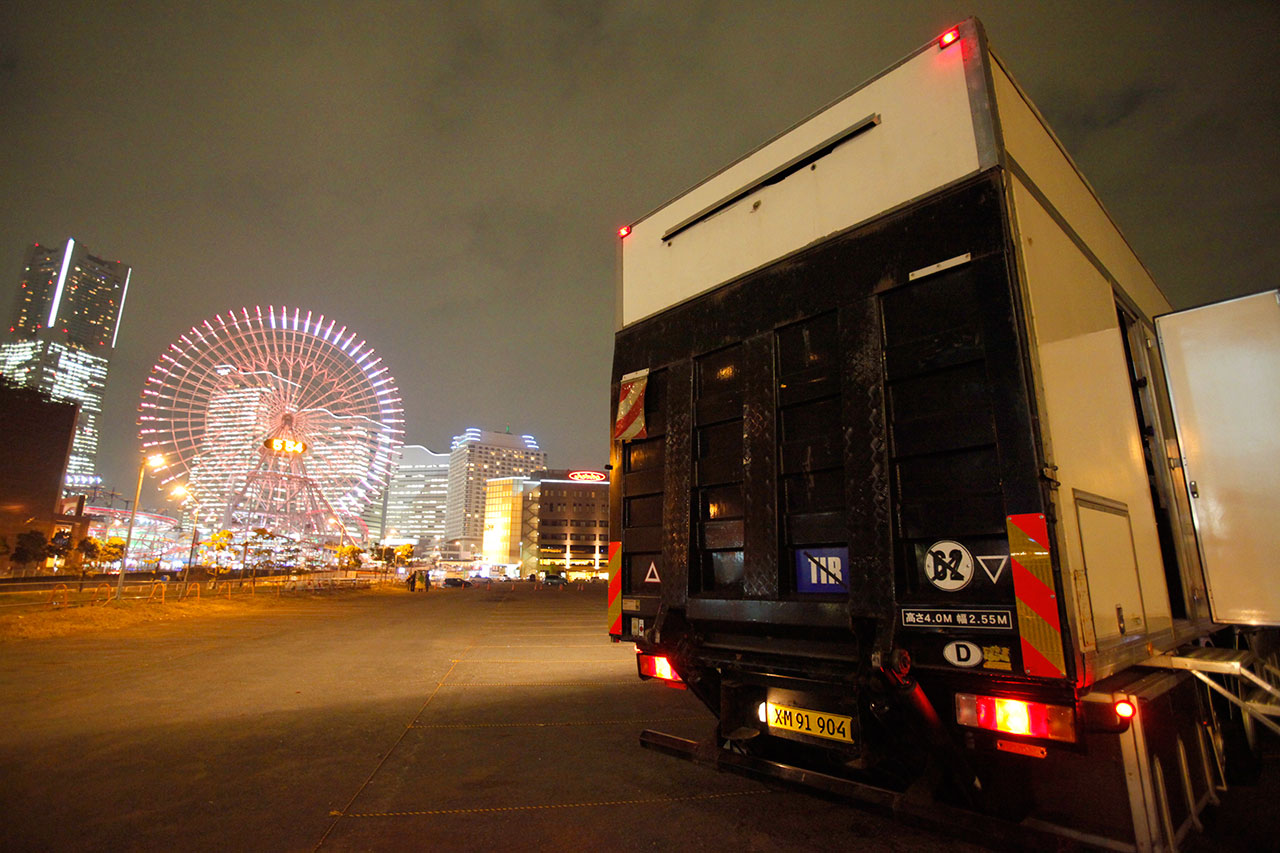 Rimini Protokoll, trendsetters in contemporary documentary theatre, is known for their unique method to collect memories and thoughts of people and change them into sharp and humorous performances. They focused on railway model enthusiast in "Mnemopark", and focused on revolutionists, capitalists, researchers, and citizens of East Germany in "Karl Marx: Capital, Volume One." They present many works all over the world basing on Germany. The theme of "Cargo Tokyo-Yokohama" is goods traffic. The audience that views the goods traffic from the perspective of a freight will trace the flow of goods, and on the roads discover an urban area, that is completely different from the scenery of Tokyo and Yokohama they are familiar with.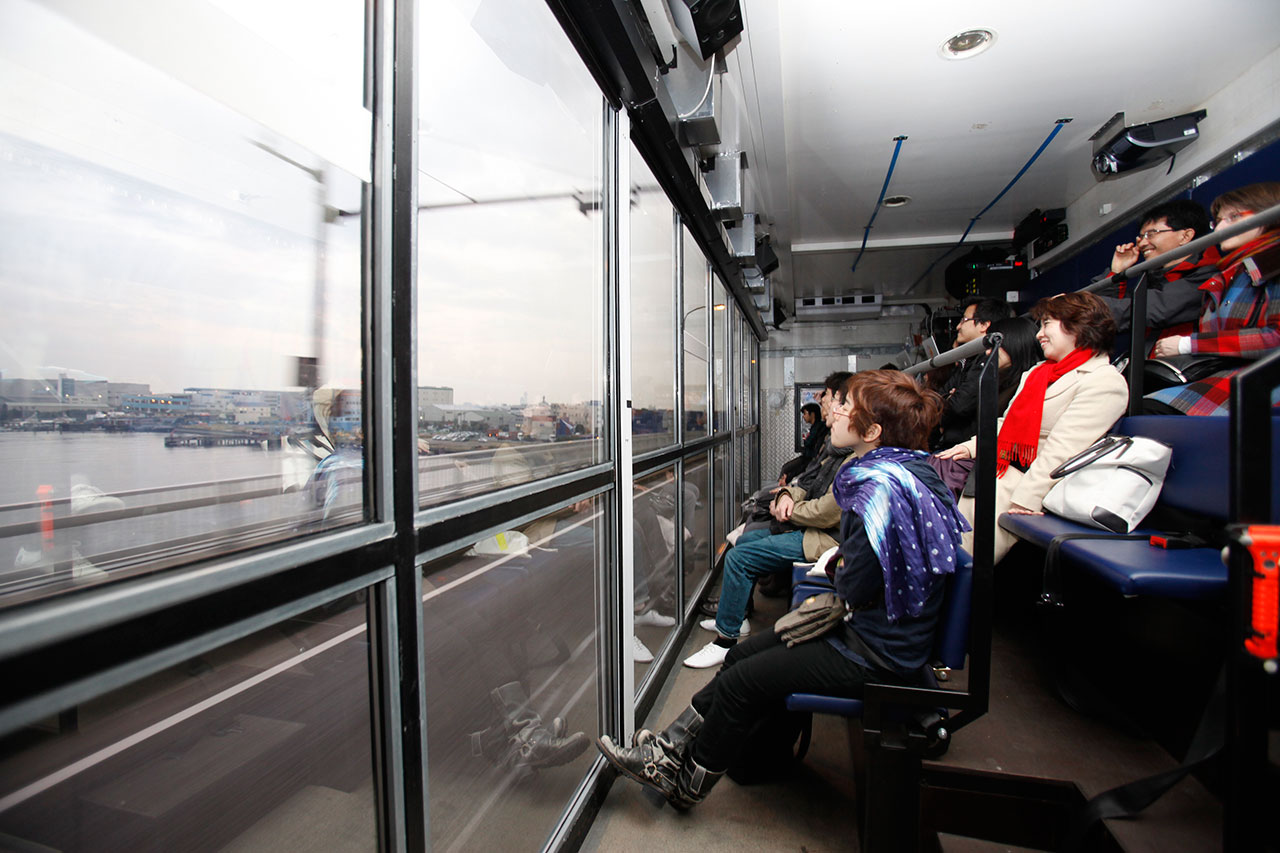 "Cargo Tokyo-Yokohama" is a performance, in which the audience is invited to take a seat in the back of a converted truck and to go on a tour through the city.
Home Sweet Home
Date: Feb. 18-Feb 20, 2011
Venue: BankART studio NYC
Concept: Subject to Change (Abigail Conway, Lucy Hayhoe)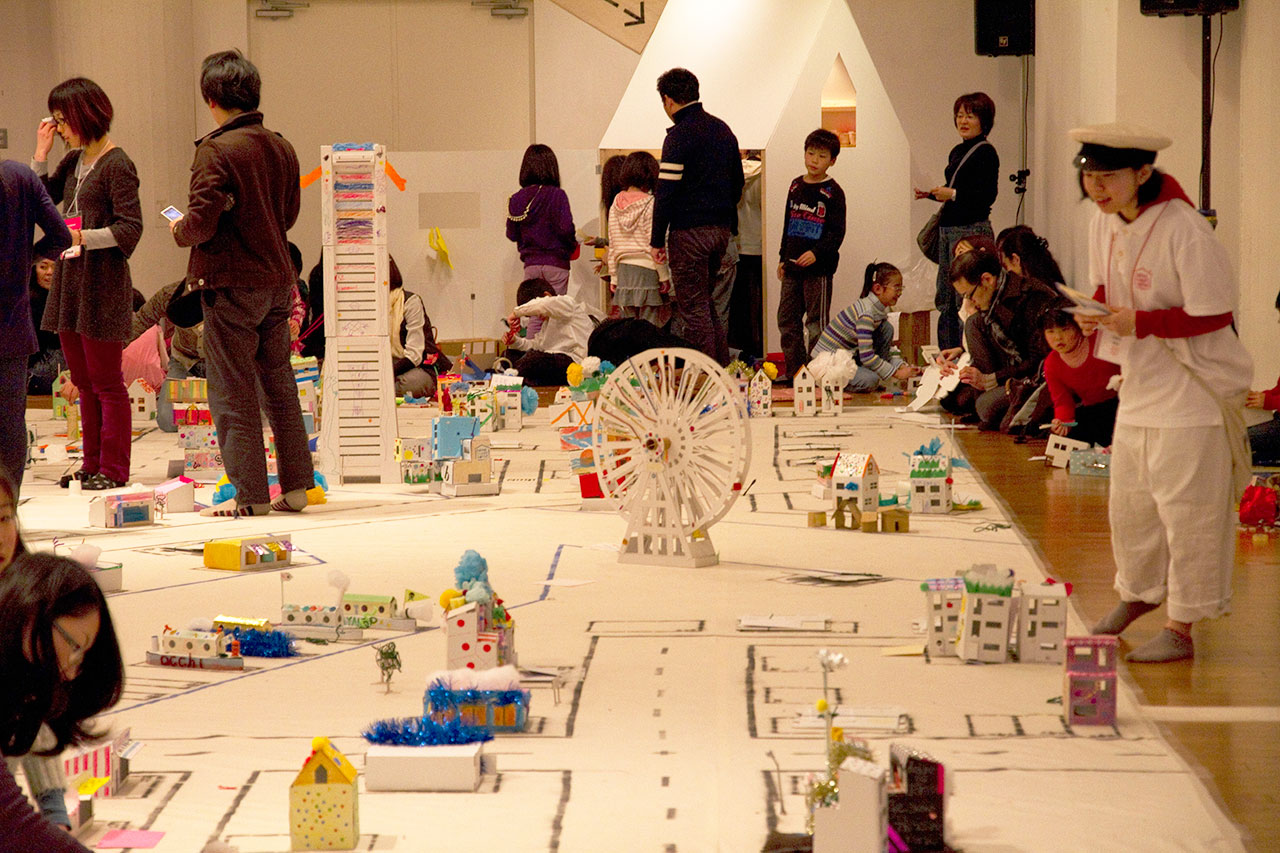 Each participant purchases their own "house" at the door, and the venue is not a theatre but a vast canvas on which the map of the city we live in is drawn. This performance is completed when the map is filled with houses that individual participants have decorated as they like, and "Yokohama," which is special for all the participants, finally emerges. The development boasts a number of services to help settle you in—a notice board, a postal service and even a local radio station. On the final night there is a street party for neighbors where they can raise a glass and celebrate the formation of their unique community.
Even though we tend to look over, it is home town, community, and art that enrich our daily life. In other words, each of us is a person concerned and each of us is an artist. Each participant builds their own house and develops comfortable town to live in. This art experience is sure to give some feed back to each participant's daily life. This is the first time that the popular live art comes to Japan, which was premiered not only in UK but also in Canada.
How to enjoy Home Sweet Home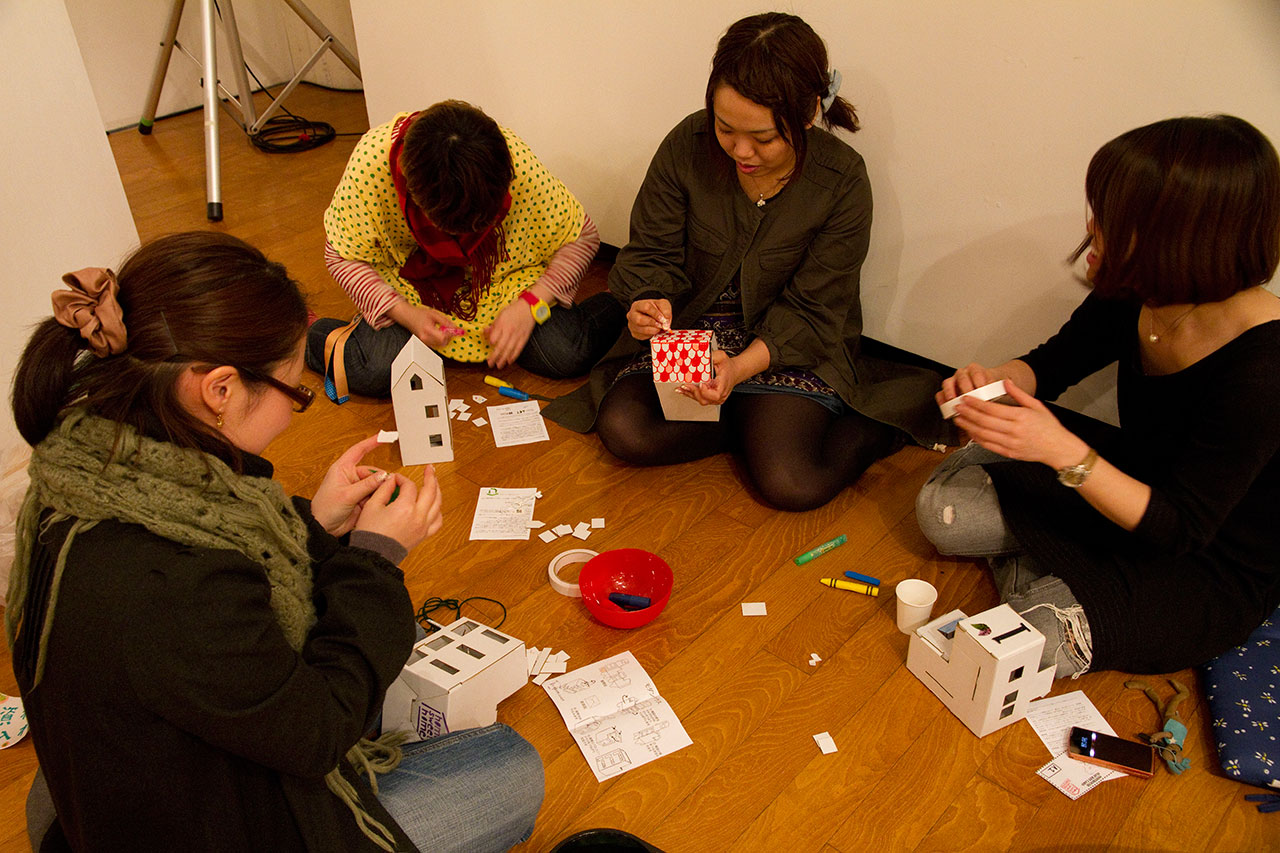 1. Purchase your own house at the reception! Receive the key and sign the contract!
2. Decorate a white "house" with origami, beads, buttons, and seals as you like!
3. When the neighbor houses are built, it is time to start town planning. Send your request through notice board, postal service, and local radio station!
4. Hold the street party to celebrate the formation of the unique town!
Zoo Zoo Scene
Artist: Shigeki Nakano(Director)
Original Work: "The Zoo Story" by Edward Albee
Date: May 17-May 18, 2008
Venue: Nogeyama Zoo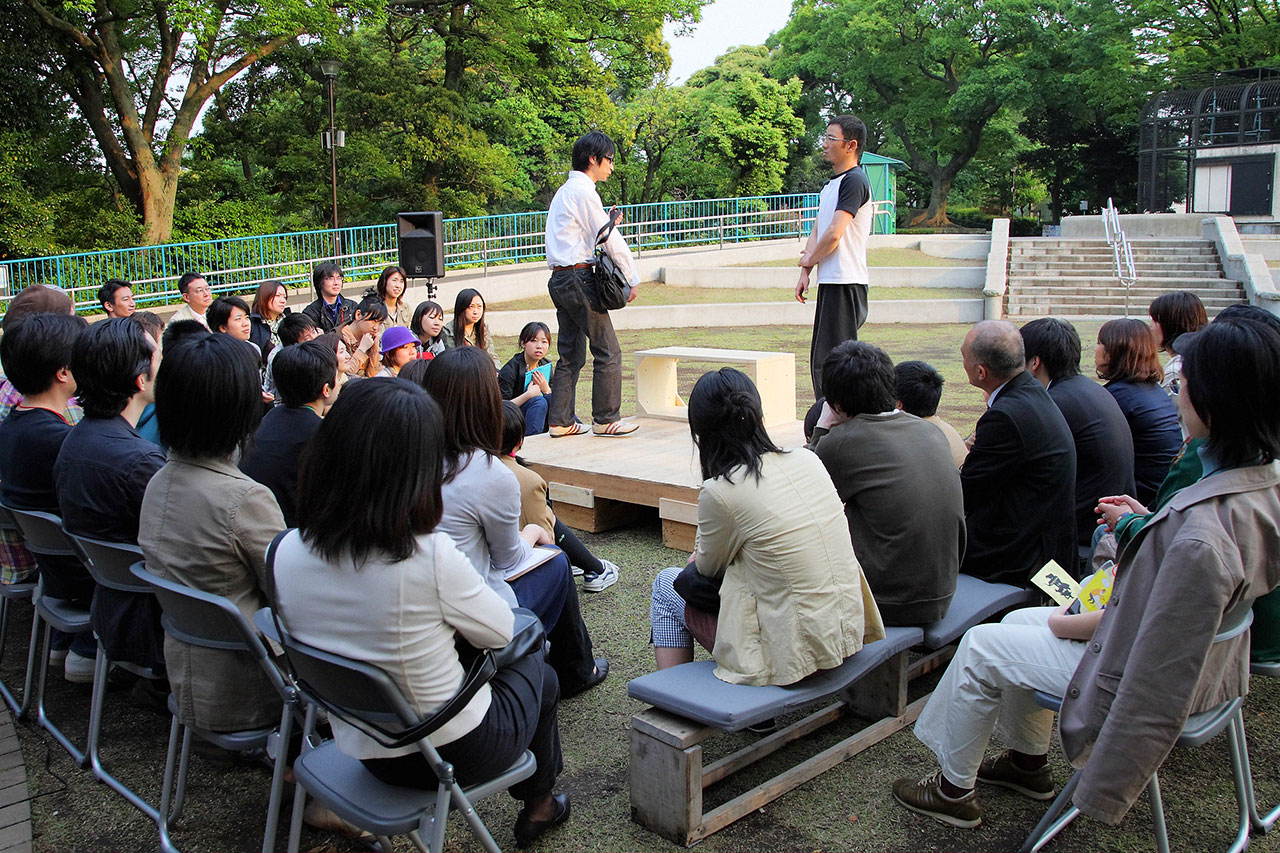 Shigeki Nakano, who is known for his technique to drag common persuasiveness out of translated plays by free mistranslation, challenges to direct "The Zoo Story" originally written by Edward Albee. The stage is the real zoo.
The staff of Steep Slope Studio holds a tour in Nogeyama Zoo before the performance and a talking event to fun of the drama will be held after the performance.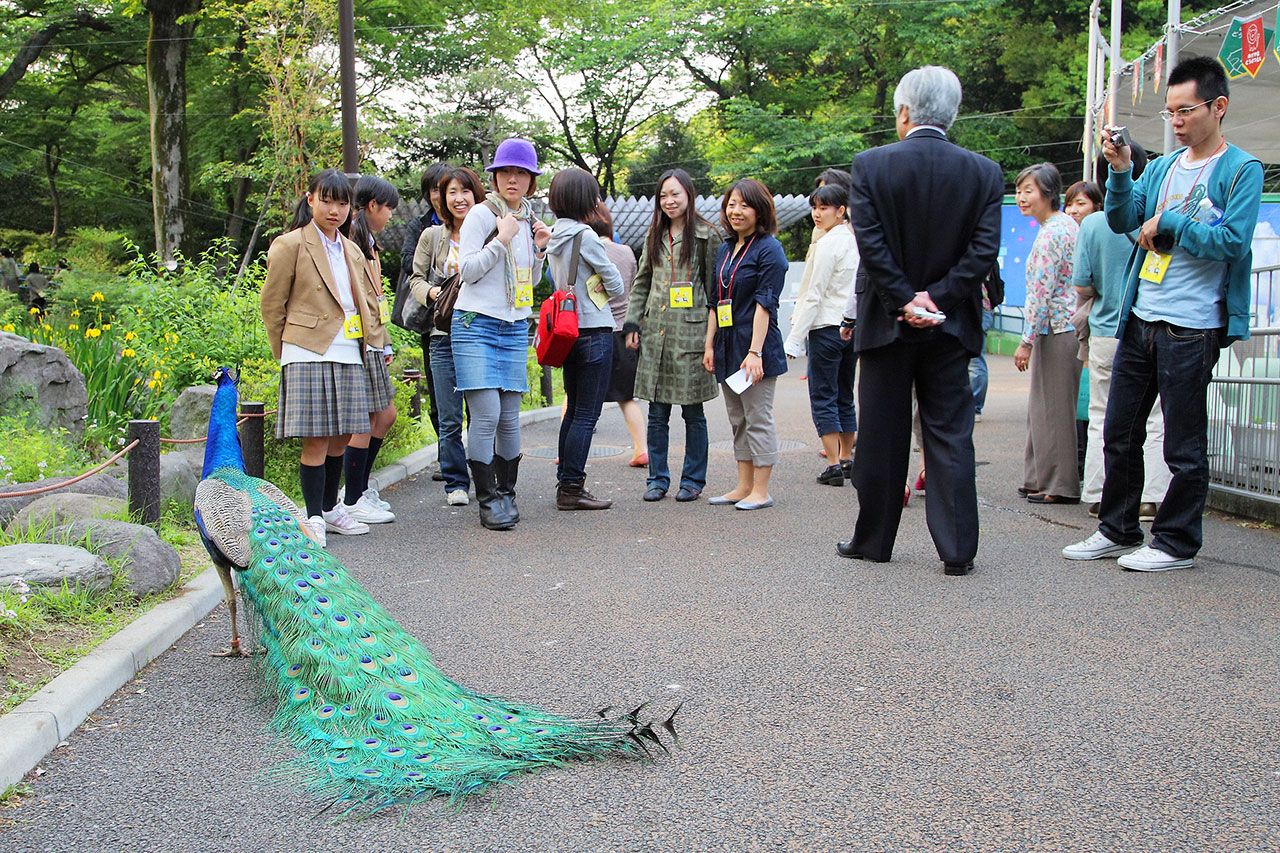 Steep Slope Studio hosted the event after Nogeyama Zoo is closed, which is just five-minute walk from the studio. The director's idea "It is exciting if we can do 'Zoo Story' in a real zoo" was realized through the project and the event has become very important for Steep Slope Studio.
3. For the Future
Supporting artists is the most important activity for Steep Slope Studio. Audience needs artists to encounter works of art. SakaAgari Scholarship was established to provide artists with the environment to ensure constant creative activities.
SakaAgari Scholarship is business collaboration of Yokohama Nigiwaiza (Small Hall), ST Spot, and Steep Slope Studio. We give total support for artists from rehearsing to performance.
We tightly communicate with artists, share the problems they face, and realize what they pursue together from planning stage to performance for a whole year.
Contents of Support
1. Providing rehearsing place (2-4 weeks): Steep Slope Studio
2. Providing performing places (1-2 weeks): Yokohama Nigiwaiza (Small Hall) and ST Spot
3. Supporting production process: Steep Slope Studio, Yokohama Nigiwaiza (Small Hall), ST Spot
※ Contents of support are decided based on hearings.
We do not only provide spaces but also share the tasks of artists face and think together to solve them. This project started in 2008 and we have supported six artists in total.
We offer custom-made support according to each artist and circumstances of theatrical art world. Since most of subsidies for artists in Japan limit the support to performance period, our program to give total support including period other than performance period is very rare and so we take pride in our project.